4.18. Transfers¶
A transfer configuration defines the rules based on which files or folders are transferred between two locations or inside a location.
Please consult the type configuration option to see the list of supported transfer types.
A new location can be added or changed via Local Manager below.
See below for an example of an initial configuration for a move transfer.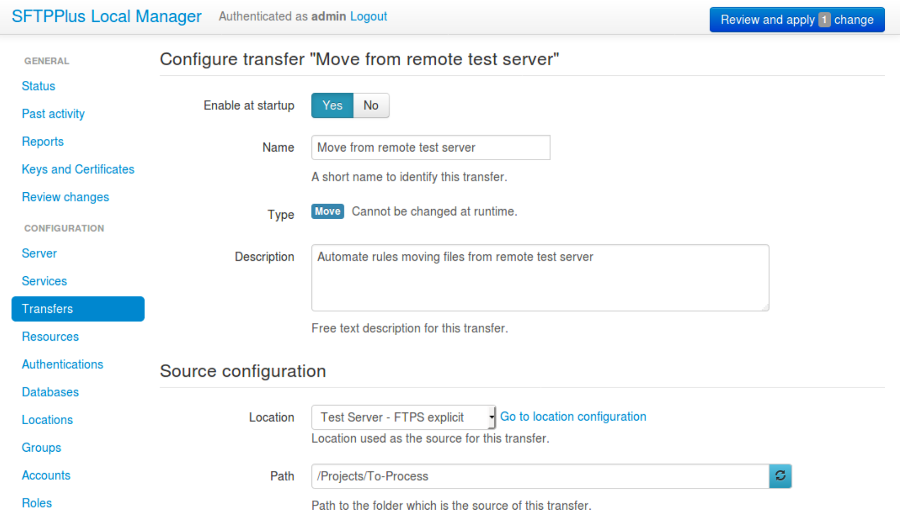 Adding a new transfer configuration is done by creating a new section inside the configuration file. The name of the section should be prefixed with transfers/ and followed by the transfer's UUID.
The transfer's UUID can be any unique string used to identify the transfer. Once defined, the UUID should not be changed.
For more information about UUIDs, please see the dedicated UUID documentation.
For example, to add a new transfer configuration of type monitor called Exported orders:
[

transfers

/

00

feb81f

-

a99d

-

42

f1

-

a86c

-

1562

c3281bd9

]




name

 

=

 

Exported

 

orders




description

 

=

 

Nightly

 

orders

 

exported

 

by

 

the

 

accounting

 

application

.




type

 

=

 

copy




source_path

 

=

 

path

/

to

/

exported_orders




recursive

 

=

 

y




destination_path

 

=

 

path

/

to

/

exported_orders



Each transfer configuration section has the following options: