8.3. Administrators¶
Administrators are dedicated to accessing the Local Manager administration service. They cannot be used for file transfer operations.
To simplify configuration management for a large number of administrators, the administrators are associated with one or more roles.
This allows, for example, to easily disable access for all administrators associated with a particular role by simply disabling the role instead of having to disable every administrator.
Administrators can be added or changed via Local Manager below.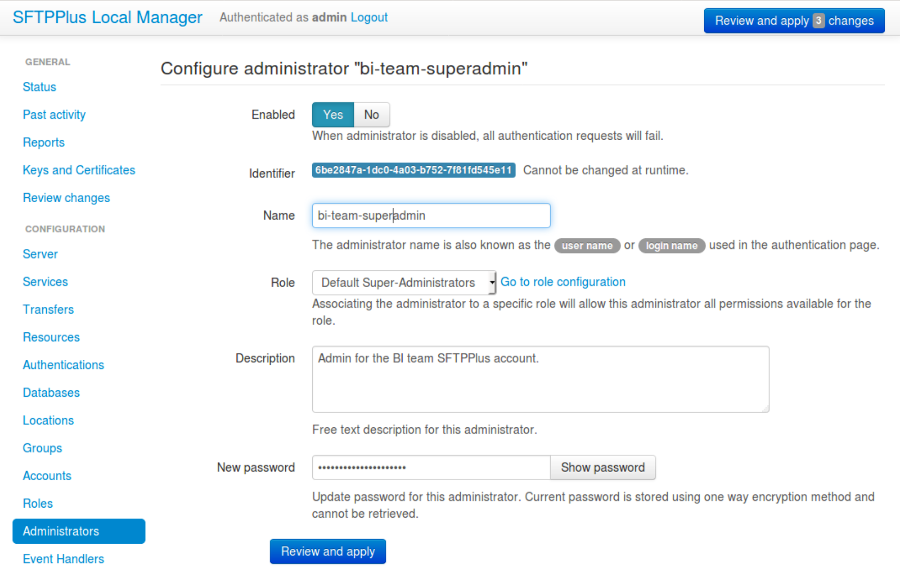 Adding a new administrator is done by creating a new section inside the configuration file. The name of the section should be prefixed with administrators/ and followed by the administrator's UUID.
The administrator's UUID can be any unique string used to identify the administrator. Once defined, the UUID should not be changed.
For more information, please see the dedicated UUID documentation.
An administrator can be an application-level account defined for accessing the Local Manager or a local operating system account belonging to an operating system group associated with a role.
For example, to add a new administrator named sa-admin:
[administrators/804aab78-70c0-4e1d-8480-4979e169a0a2]
name = sa-admin
enabled = Yes
description = Administrator account for our super admin.
password = $5$rounds=1000$utwEAUxeFBXSF0Uf$klQTAMRygQfijPXMYZCddVug
role = 404aab78-70c0-4e1d-8480-4979e169a0a4

Note
The server does not support authenticating operating system administrators that are used for multiple roles. In this case, the result is undefined.
Note
Administrator names and passwords longer than 150 characters are not allowed by SFTPPlus. Generating passwords longer than 128 characters is not possible either. These restrictions prevent denial of service attacks.
The following configuration options are available for administrators.